Enrichment Classes
Free with paid admission
​Monday-Friday @ 10:30am

Movement Monday​

 ​​​​​​​​​
This class uses dance and movement activities to
 improve balance, coordination, and rhythm.  We also sing classic nursery rhymes, play parachute games, and learn fingerplays.
Story Tales Tuesday​

​Join us as we share 1-2 short stories that introduce rhymes, characters and storylines that your child is sure to love!  We begin and end each class with a "hello" and "goodbye" song.  


​​In this class, we combine two of our favorite things:  books and crafts! Your child will create a craft after listening to a short story.  It's something their little hands will be proud of.  
Toddler Time Thursday​

​   *See description below


Fine Motor Skills Friday​

This class uses fine motor play activities to  promote strength, dexterity, and improved grasp in small children.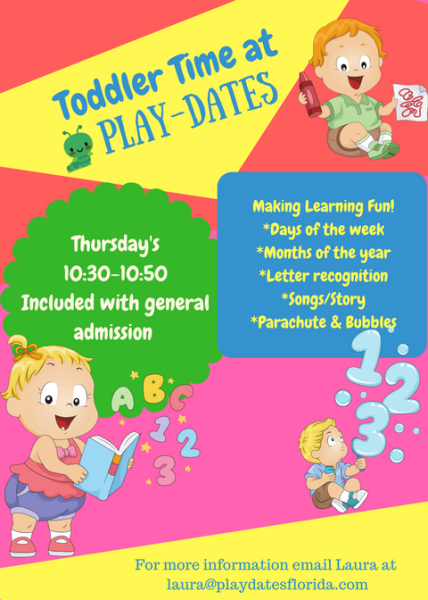 Welcome to Toddler Time at Lolo's Play-Place! Many of you know that my background is in Early Childhood Education and that I am a certified K-3 teacher and reading interventionist. 
With that being said, I am beyond excited to offer this new class for your little one. We will have endless fun singing the days of the week, the months of the year, as well as reciting nursery rhymes. We will also introduce one letter a week, incorporate finger plays that support counting/numbers and share a short story. All of the activities are engaging and age appropriate for your little one. 

This class is FREE with paid general admission and there is no need to reserve a spot. This class will begin on Thursday January 4th and will occur weekly. 
This is NOT a drop off and parents are required to stay. :-)